Drain & Sewer Line
Repair Services
Covenant Plumbing offers drain and sewer line repairs, replacements, and installations. Our team of experienced and knowledgeable plumbers can retrofit the drain and sewer lines in your home or business if they need replacing, running the lines through the walls, underground, and out to the street.
After your call to us for plumbing services, our team will come to your location as quickly as possible to assess the situation and identify any immediate needs. We will then, if necessary, use our excavator to gain access to the underground line. Using our sewer line camera, we can quickly and efficiently identify the issue and determine how deep in the line we will have to go to fix it.
Avoid costly repair from a broken or damaged drain or sewer line by contacting us as soon as you notice a problem. Our team will handle it quickly.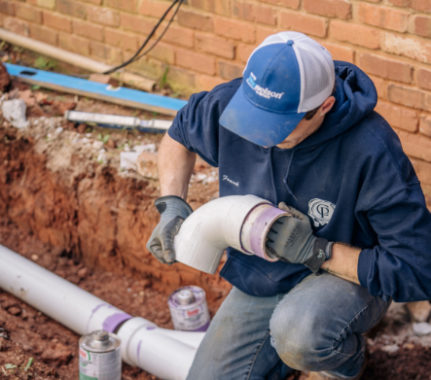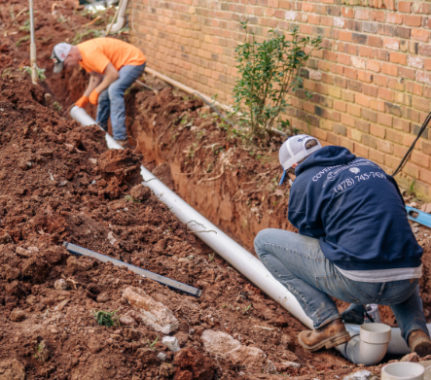 Sewer Line Repair: When & How
Sewer line and drain line problems are not always easy to detect, but a good practice is to look for pooling water. Seeing water pool can mean that your sewer line has a broken pipe, something blocking it, or corrosion. Roots can grow through your pipe, the ground can freeze and thaw, or the ground settling can all cause broken pipes. Sewer line blockages can occur as a result of grease buildup or someone flushing an object or material that should not go down the toilet. Sometimes, sewer lines experience corrosion simply because they have been in the ground too long.
Drain and Sewer Line Repair Process
Call our office staff at 478-745-7436 to discuss the scope of the project
Schedule the best time that our team can come to your location
Our team will work quickly and diligently to mitigate downtime
We will follow up with you on our level of service and experience with our team
Give us a call at 478-745-7436 to schedule a drain and sewer line inspection!