Covenant Plumbing, LLC
Quality Service with Integrity Since 2000
Covenant Plumbing is the comprehensive solution for any of your residential or commercial plumbing needs.
Schedule an Inspection
Our Plumbing Solutions
At Covenant Plumbing, we are your source for professional plumbing services in Middle Georgia. Since 2000, we have been providing our commercial and residential customers with exceptional customer service and quality results. Whether you need a new sewer line installation for your home or a water heater replaced at your business, you can trust Covenant Plumbing for unmatched quality and integrity for all your plumbing needs.
Master Plumbers in Macon, GA
Experience matters when it comes to providing superb plumbing services. At Covenant Plumbing, we have master plumbers and many years of combined experience within our crew. We are centrally located in Macon, GA, and offer service to communities throughout mid-Georgia. Our crew can provide quality plumbing repairs and installations in Conyers, Covington, Forsyth, Fort Valley, Warner Robins and many other communities in Middle Georgia.
Full Service Residential and Commercial Plumbing
Whether you need plumbing installation in new construction for your home or business, or an emergency plumbing repair, call us at Covenant Plumbing. Our experienced crews have the equipment and expertise to complete your next plumbing project. We work with large corporations and owners of small homes – no project is too large or too small for our plumbing team. Some of the services we provide include sewer line replacement, water line repairs, water heater installations, septic tank service and all types of plumbing repairs.
Emergency Plumbing Service
When you have a plumbing emergency, you need professionals you can count on for fast and reliable service. At Covenant Plumbing, we can come to the rescue when your water line breaks at your home or a sewer line backs up the drains at your business. Our plumbing specialists understand how stressful a plumbing disaster can be for property owners. We will provide a quick plumbing resolution to prevent further damage to your home or business.
When you need a plumbing expert in Middle Georgia, contact our team at Covenant Plumbing today to get a free quote on your next plumbing installation or for a quick plumbing repair. You can trust us for all your commercial and residential plumbing needs.
Do you have questions or want to schedule an inspection? Contact Us!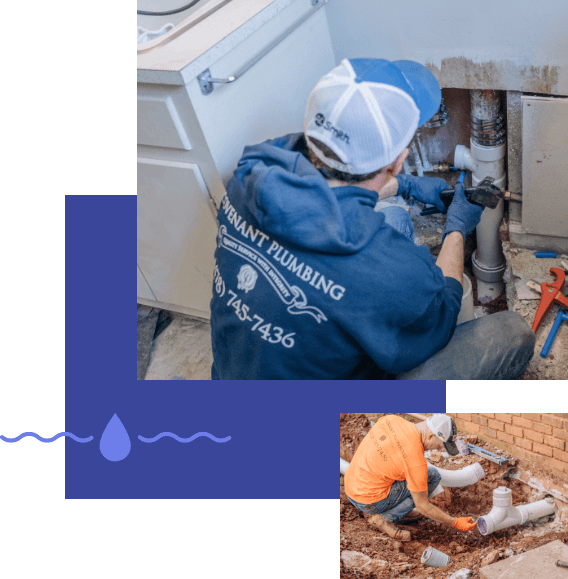 Covenant
Plumbing
Service Area
With our office located in Macon, Georgia, we are strategically positioned in the center of Georgia to serve all of Middle Georgia.
Our central location, dedicated team of dispatchers, and timely response allow us to meet your plumbing needs wherever your home or business is located. We have the reach and capabilities to get to your home or business and take care of any of your plumbing needs.
Our Service Area